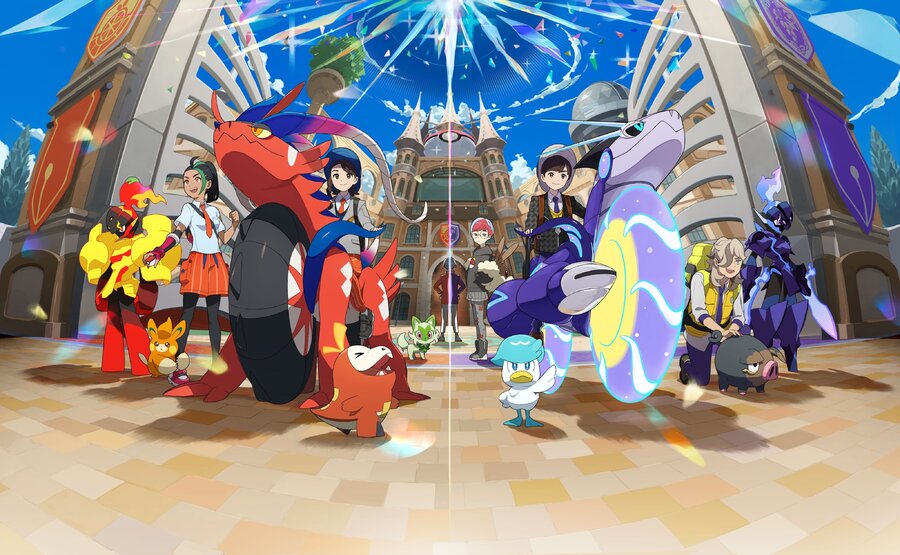 The Pokémon Company has announced Pokémon Scarlet & Pokémon Violet, the two new entries in the long-running Pokémon RPG series. The second mainline Pokémon game on the Switch after Sword & Shield, this 9th Generation of Pokemon will be launching on 18th November and pre-orders are now available.
Here's everything we know about the crimson and palatinate duo.
Pokémon Scarlet & Violet: Everything We Know So Far
Pokémon Scarlet & Violet: Versions
Unlike spin-off Pokémon Legends: Arceus, Pokémon Scarlet & Pokémon Violet reverts back to the series practice of offering two versions of the base game. That means it's almost inevitable that you won't be able to get every Pokémon just using one version.
It's also been confirmed that the outfit your character wears varies depending on which version you're playing.
Of course, you also get some snazzy new box art depending on what version you pick up.
Pokémon Scarlet & Violet: Setting
According to The Pokémon Company, Pokémon Scarlet & Pokémon Violet will see the series taking a "new evolutionary step, allowing you to explore freely in a richly expressed open world." That world would seem to be based on the real-world Iberian Peninsula in southwestern Europe, a region that includes Spain and Portugal.
There are a number of unique locals across the new region, which we don't have a name for yet, or even a map! But we have got a lovely look at some of the places you'll get to explore in the game.
Pokémon Scarlet & Violet: Open-World
The Pokemon Company has now confirmed that Generation 9 will be "the first open-world RPGs in The Series", where "You can experience a new style of adventure, with a world that you're free to explore at your leisure and not in an order dictated by the story. You will, of course, journey to hone your skills as a Pokémon Trainer, but many more discoveries and stories await you. Meet a variety of people and Pokémon, and adventure in the world of Pokémon the way you want to."
Previously, The Pokemon Company gave some pretty clear hints that these games would be open-world, saying that "you'll be able to experience the true joy of the Pokémon series—battling against wild Pokémon in order to catch them—now in an open-world game that players of any age can enjoy." Now we know that's 100% the case!
Pokémon Scarlet & Violet: Multiplayer
One more thing that The Pokémon Company has been forward about with this upcoming release is that you'll be able to play Pokémon Scarlet & Violet in four-player multiplayer. This is a first for the series, though we don't know if this will be for both online or local multiplayer yet.
Pokémon Scarlet & Violet: Characters
While the Pokémon are pretty important, it's good to get to know who you'll be encountering, talking to, and maybe even battling in the new region. Pokémon Scarlet & Violet introduce two new Pokémon professors — Sada (exclusive to Scarlet) and Turo (exclusive to Violet).
We've also encountered our potential rival, Nemona, who looks like a pretty worth advisory.
Pokémon Scarlet & Violet: Pokédex
Although it hasn't been confirmed as yet, it's looking likely that the full Pokédex won't be present in Pokémon Scarlet & Violet.
As highlighted by Serebii.net, it looks like players will only be able to add "specific" pocket monsters to these games via the Pokémon HOME app. This suggests "not all" Pokémon may be coded into the next Nintendo Switch entries.
While this news isn't particularly surprising, it may upset some trainers who were hoping to be able to "catch 'em all" to complete the National Pokédex. This would follow in the footsteps of Pokémon Sword and Shield which excluded the complete National Dex.
There are now more than 900 pocket monsters on record as of 2022, which means Game Freak is likely to cherry-pick certain 'Mon more and more from here on out. Producer Junichi Masuda also previously mentioned how more Pokémon in games potentially presented issues when it came to battle balance.
Pokémon Scarlet & Violet: Starter Pokémon

Trainers will once again have the choice of three 'starter' Pokémon: grass (Sprigatito), fire (Fuecoco), or water (Quaxly).
Pokémon Scarlet & Violet: New Pokémon
The starter Pokémon won't be the only new faces we'll get to meet in Generation 9. In the latest trailer for the game, three new Pokémon that will be roaming about in the wild made their debut.
Pokémon Scarlet & Violet: Legendaries
We also now know what the two legendaries of Scarlet & Violet look like. Koraidon and Miraidon seem to be embracing a past and future aesthetic, and they of course match their respective box arts.
Pokémon Scarlet & Violet: Release Date
Pokémon Scarlet & Violet is scheduled to release worldwide on 18th November. Pre-orders have started to appear across the US and UK.